The Endless End
Tevfik Balcıoğlu
Integrated Design Approach: Reflections on a new School of Design Building
May 4, Wednesday, 5 pm
This lecture is the story of a new design school and its surfacing identity, which was neither presupposed nor planned but emerged 'organically'.  The School of Fine Arts and Design at Izmir University of Economics was established in 2003. Today it has about 75 full-time faculty members at all levels, 1200 students, five departments and three postgraduate programmes. During this process of rapid growth it has developed a curricula based on a common study year, collective courses and elements, shared resources, and joint and inter/multidisciplinary projects realised among different departments from fashion to architecture. The faculty has somehow achieved an Integrated Design Approach (IDeA) where boundaries of individual design areas have become porous. This Integrated Design Approach, widely discussed internally, subsequently appeared to be a kind of intrinsic philosophy of the faculty although never fully accepted or put into action purposefully.
In 2009, the Dean was asked to organise the design of a new School building by the President of the Board of Trustees. A small team composed of full- and part-time faculty along with a few students, designed the building in line with the 'undefined' principles of an Integrated Design Approach. The entire process took less than 14 months from the day pencil touched paper to the day the first lecture was delivered in the 13,000 m2, completely furnished building. This presentation is not about a miracle of design and construction but about an Integrated Design Approach's impact on a new building of education.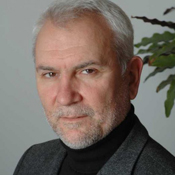 Prof. Tevfik Balcıoğlu is the founding and current Dean of the Faculty of Fine Arts & Design at Izmir University of Economics, Turkey, since 2004. Prof. Balcıoğlu has studied at Middle East Technical University, attended the Royal College of Art, and has taught at Goldsmiths' College and Kent Institute of Art & Design, UK, where he established and ran the BA (Hons) Three Dimensional Design. He has organised several international conferences, has edited a several books, including The Role of Product Design in Post-Industrial Society, and Dancing with Disorder: Design, Discourse, Disaster and has edited a special issue of Design Journal entitled: A Glance at Design Discourse in Turkey. He is the founder of the 'Design History Society, Turkey' (4T:Türkiye TasarımTarihi Topluluğu) and its annual 4T conferences of which proceedings have been published since 2005.  He has written regularly for a Turkish design journal, XXI Architecture, Design and Space, and is a member of the European Academy of Design.