The Endless End
Accommodation
The conference venue is:
The University of Porto, School of Arts
Avenida Rodrigues de Freitas 265
4049-021 Porto
Nearest underground station: Campo 24 de Agosto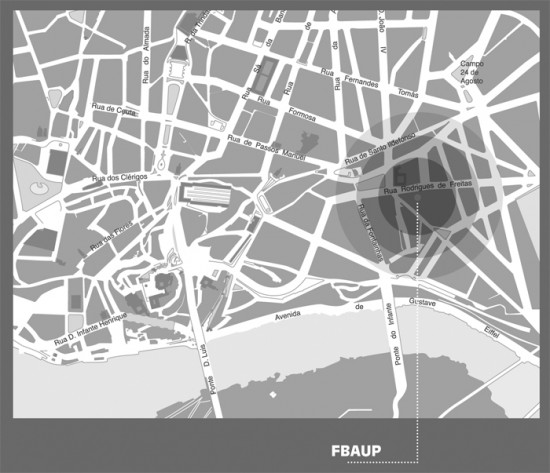 PORTO
Porto, Portugal, nicknamed "the Northern Capital", has been bubbling up for the last decade. Mixing Centuries-old tradition and a contemporary poise, Porto is famous for its wines, food, monuments and a dazzling landscape by the riverside. But it is currently just as famous for its thriving international music scene, performance spaces and unbeatable shopping bargains. Porto Design culture has been firmly established for the last few decades, a mix of experimental approaches, links with local industry, and strong traditions in illustration, poster design and photography.
Porto hosts the most visited museum in Portugal (Serralves), a huge and incredibly popular music venue (Casa da Música), a buzzing club scene (Passos Manuel, Maus Hábitos, Cândido dos Reis), and the country's largest University (Universidade do Porto). Old spaces are constantly being transformed into hubs of creativity.
Porto's status as European City of Culture in 2001 was the signal for a massive urban redevelopment, and Porto's streets and squares have subsequently been turned upside down in a flurry of construction work, including the provision of a new metro system and tram lines. Many of the city's historic buildings are being restored, particularly in the riverside Bairro of Ribeira – now a UNESCO World Heritage Site.
If you have never been to Porto, prepare to be surprised. If you already know Porto, join us at EAD2011 and explore it further.
For more tourist information on the city of Porto please visit:
— Porto Turismo
— Visit Portugal
— City Hall
HOW TO REACH PORTO
Porto is quite easy to get to, either by plane or by land. The airport is located around 11 km north of the city centre and 20 km from the Workshop Hotel.
To find more information about how to get to Porto please visit Porto Turismo.
MOVING AROUND
Porto has good transport infra-structures. Bus, Train and Metro can be used to circulate in the city and surrounding areas.

You can find more information on:
— Metro
— BUS (STCP)
— Train (CP)
PORTUGAL VISA AND PASSPORT REQUIREMENTS
Portugal is one of the members of the Schengen Area, for which most non UE-citizens need an entry visa. You can find more information about the Schengen Area and required documents here:http://europa.eu/abc/travel/doc/index_en.htm#visa In case you need an entry visa, you should apply for a Schengen Visa. Please make sure you apply for it well in advance before your departure. For more information please contact the Portuguese Embassy or Consulate in your country.
Please find below a list of hotels we recommend, and please book early, as there are other conferences in Porto at this time.
RECOMMENDED HOTELS
Grande Hotel do Porto ***
Rua Santa Catarina, 197 – 4000-450 Porto
Phone: (+351) 22 207 66 96
Email: comercial@grandehotelporto.com

A 3-minute walk from the conference venue.
Single room: 70,00€/night
Double/Twin room: 75,00€/night

Hotel Mercure Porto Centro ****
Praça da Batalha, 116 – 4049-028 Porto
Phone: (+351) 222 043 300
e-mail: h1975-re@accor.com

A 3-minute walk from the conference venue.
Single room: 85,00€/night
Double/Twin room: 95,00€/night

Quality Inn Praça da Batalha – Porto ***
Praça da Batalha, 127 – 4000-102 Porto
Phone: (+351) 223 392 300
e-mail: tradeqipb@grupo-continental.com

A 3-minute walk from the conference venue.
Single: 75,00 Euros
Double/Twin room: 80,00 Euros

Quality Inn Portus Cale ****
Avenida da Boavista, 106 – 4100-113 Porto
Phone: (+351) 226 083 900
e-mail: quality.portuscale@grupo-continental.com

15 minutes by taxi; 20 minutes by underground (nearest station: Casa da Música).
Single room: 70,00 Euros
Double/Twin room: 78,00 Euros

Vila Galé Porto ****
Avenida Fernão de Magalhães, 7 – 4300-190 Porto
Phone: (+351) 217 907 610
Fax: (+351) 217 907 640
e-mail: porto.reservas@vilagale.pt

A 5-minute walk from the conference venue.
Single room: 68.00 euros
Double/Twin room: 80.00 Euros