The Endless End
Jon Wozencroft
The End My Friend
May 6, Friday, 2.30 pm
This famous 1968 song by The Doors from their first album, used with pregnancy and design in Ford Coppola's 1979 film "Apocalypse Now"… Years previously Claude Levi-Strauss beat them to it with his assertion that our view of history is based around a particular driving force, 'entropology', in which we mediate our own ruin and imagine our own downfall as a species, a ruling class above the animal. To say nothing of the psycho-sexual narrative that Jim Morrison brings into relief, as he curves his psychosis towards his mother.
These days he'd have a Facebook account, and would twitter regularly. The world has changed massively since 1968, but little ambition is shown in relating how these changes apply particularly to Design.
Indeed, one could go further to say that the world of Design, attached securely to its technology password, has become such a world of repression and control that one can look at the Danish chairs, and never realise how much it's cost us.
This realisation, if one can realise how much we've been sold down the rivers of Babylon, is a doorway to a different sense of scale… but there is no furniture, no record cover, no book jacket.
I think this is at the heart of the times. Everybody knows what should be on the cover, but nobody can picture it.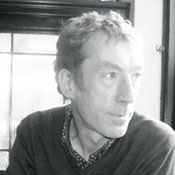 Jon Wozencroft is currently Senior Tutor in the Communication Art and Design Department at the Royal College of Art. He studied as a postgraduate at the London College of Printing, working for various printers and publishers before setting up the multimedia publishing company Touch in 1982. As well as working as a freelance writer, designer, editor and programme-maker, Wozencroft collaborated with artists and musicians from around the world developed Touch as an alternative vision of audio-visual publishing. A series of contributions to Touch from Neville Brody let to closer involvement, firstly in helping to set up the Brody Studio in 1987, later as an author ofThe Graphic Language of Neville Brody. At the end of 1988, they published a treatise on corporate design culture in The Guardian Review. In 1990, they started the FUSE project, of which Wozencroft is the editor. Jon Wozencroft began teaching at Central St. Martin's School of Art and Design in London in 1992 where he developed a new course for BA Graphic Design. In 1994 he was appointed main tutor and assistant course director for MA Interactive Multimedia at the Royal College of Art. Jon Wozencroft's research interests focus on new music and its relationship to design and visual media; the impact of digital media on audio-visual practice and how the relationship between sound and image has been altered since the introduction of laptop computers in the late 1990s and the impact of digital media upon human perception.